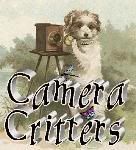 Ohhh I'm late late late getting this up, but I still want to play in Misty's Camera Critters meme so badly, I'm posting anyway!
I was going to put Louie up the first week, but when I went digging for some good photos (never a bad picture when you're Louie), I found these. This is Niki's cat, GiGi, hanging out with the dog statue my late father gave me for Christmas one year. He thought it looked a lot like our Cairn Terrier, Buttons, so he had to have this! I keep it up high and safe now--actually I treasure it. However at the time, I'm embarrassed to admit I was a little bummed. I was a teenager, and I really wanted a gift certificate or something fun like that. Now I'm eternally grateful my dad thought of something meaningful--the skirt I wanted wouldn't be here anymore and I wouldn't have remembered it.
Okay, enough about the dog---here's our foofy little princess kitty, GiGi, hanging out with us in the kitchen (freaked me out the first time Boo got up there!):
If you want to play, even this late, you still can. Head over to Misty's and grab a button...oh! and Happy Camera Critters! Alright...off to do a little more PowerPoint fun and hopefully get some more coordination going on in this blog! What made me think I could do so much at once?!
Undergoing MyBlogLog Verification