Tonight at nine, I've signed up to be in the prayer room at church. Several of my friends will be there at differing times. Even the midnight spot is spoken for and I can't help but think 'Wow. What a way to bring in the new year than to be in prayer, to be in purposeful communication with God'.

We're doing this for a few days because tomorrow is the beginning of that thing I've been hinting around about, Miracle Word. The forum is up and going, I'm on there, several of my friends are on there, and several people from around the country are as well. We're going to read the Bible, beginning at the beginning and go through it one day at a time. But not just read it.

I'm doing it a little differently, I'm going to read the Message Remix version and I'm going to stop trying to fit the words into my life. I'm going to fit my life into Scripture and live it, kind of like a good novel. But of course, better. I've got a lot of hope about this, I need that now. I'm hopeful this will transform me and that when I emerge I will come out of this a better person, a person who's been there. In that whale along with Jonah, next to Job as he tears his clothes from his body in anguish, and sitting in that boat alongside the disciples while they watched (jaws dropped I imagine) as Jesus walked to them, on top of that water.

It's going to be a lot of things for me, I expect to feel excitement, anger, sadness, hope, elation, grief, disbelief, awe....and more.

Before I sound too much like a preacher (I'm still me, a little 'off' and a lot tuned into my friends) I just want to add that at anytime you feel drawn to join in, it's be very cool to do this together, to talk on the forum about the day's reading, what it invoked in your life that day, if anything. Click the link (it's over at Christian Women Online too) and it'll tell you where to start. And...if you want a hard copy of that book that the forum talks about, I've got 'em, let me know, I'll mail you one on the house if you want to give this a go.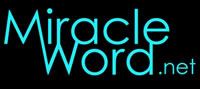 May your new year be blessed, my frie
nds. This will be incredibly difficult to face for me, as most of you know our beautiful daughter has chosen not to be part of our family for now. It's unbearably hard and I don't know how to make it right. I can't, so even though I've tried over and over, today I am laying this heavy burden down and am handing it to God to take care of. Because I cannot anymore. I love her beyond love and I'll be waiting for her if she chooses to return, arms open and heart softened. This Miracle Word couldn't come at a better time.

PS--if you haven't taken the tree down already, I leave you with a little tip, something I learned on my own several years ago. Those silver hooks look so innocent and fragile. Yes you look at it, you tower over it and laugh wickedly as you prepare to snag it up with your vac, because you and your vacuum are farrrr more powerful than it is. And two hours later after your hubby has extracted all of them from the thingy-majiggy it's caught up on along with the gift tag you didn't tell him you sucked up too, you're probably not imagining it. Those were of teeny tiny little giggles resonating from the trash can. Stuuuupid hooks.